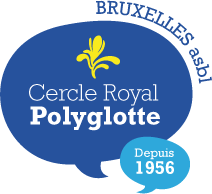 Membership fee & Organization
Membership fee & Organisation
In order to cover the expenses for renting the meeting room and other administrative costs, a fee is asked from each member.
This fee is to be paid at the time of your subscription.
Starting the month of your initial subscription, the fee runs for a full year and is 25€.
Bank account
FORTIS BE96 2100 1685 3905.
To participate in a trial evening, a contribution of 2€ is asked. If, after this, you wish to continue to participate in our meetings, you will be asked to become a member.
Attendees at the meetings of our conversation tables are required to order at least one drink from the cafeteria that rents the room to us.
Organization of the Association
The Brussels' polyglot-association is an a.s.b.l. (Association sans but lucratif). All organizing members are volunteers.
Our association is headed by a president, one or two deputies, a secretary, an accountant and other positions depending on demand. All are members of the Administrative Council that organizes all events and aims to make sure that the events run smoothly.
The conversation director at every table directs the conversations and makes sure that everything proceeds in good order.
A general assembly is held every year where all members are given the opportunity to formulate remarks or make suggestions.  
Our organization is officially recognized by the Ministry of Culture of the Wallonie-Bruxelles Federation.
The association comprises ordinary members, effective members (i.e. members with the right to vote in the assembly, and, foremost, members of the committee and the administrative council) as well as honorary members (members who have greatly contributed to the development of our association).
Our a.s.b.l. regulations and by-laws have been published in the "Moniteur belge" and can be obtained on simple request.