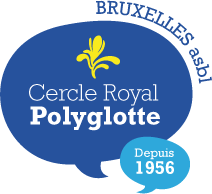 Other polyglot – associations in belgium and in the world.
In Belgium and in the world are many other associations, clubs, café's or conversation tables present. The list changes continuously.
Listed below are the most important ones with which we establish contacts on a regular basis.
Members of our Brussels polyglot association are permitted to attend their events during any the members' visits, holidays, etc. within Belgium or abroad.
In the same way members of other similar associations are welcome to visit us in Brussels.
Belgium

Cercle Polyglotte de Liège

Meets every Tuesday between 8.30 pm and 10 pm
Au 1er étage de la Danish Tavern, rue Pont d'Avroy, 1, Liège.
Site internet : www.cercle-polyglotte-de-liege.be
Info : Claude Robin, président – robinclaudius@gmail.com
GSM : 0495/413.143
Cercle Polyglotte de Waterloo
Meets every Tuesday between 8 pm and 10 pm
Foyer du Tennis Club de Waterloo, 5, boulevard Henri Rolin, 1410 Waterloo (behind hotel Ibis).
Info : Mr. Stéphane Lommaert.
Tel. 02/387.04.94.
Linguists'Club Antwerpen
Meets every Thursday starting at 8 pm
Taverne Het 11de Gebod, Torfbrug 10, 2000 Antwerpen.
Info : Ms. Belinda De Rudder.
Tel. : 02/261.14.28.
e-mail : linguists.club@belgacom.net
Cercle de Beauraing
Meets every first and third Wednesday of the month between 2.30 pm and 4.30 pm
Centre Culturel de Beauraing, 42, route de Rochefort, Beauraing.
Info : Ms. Chantal Mans.
Tel : 0477/699.723.
Many polyglot-associations exist abroad, for instance in Köln (Germany), New York-Westschester (U.S.A.), Calais and Dijon (France), Croydon (U.K.), Luxembourg (Grand Duchy of Luxembourg).
Information concerning those associations is available at our secretariat.